The biggest holiday shopping season is fast approaching. With consumers searching for deals across a variety of screens (desktop, mobile, and tablets), here are five key marketing trends from the previous year that will help you achieve a successful retail season – both online and off.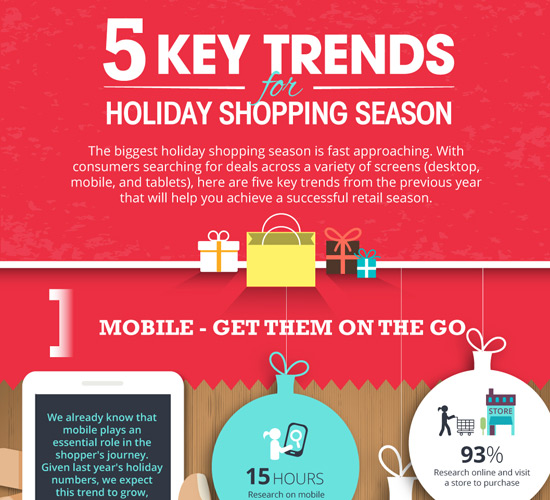 1) Mobile – Get Them On The Go
We already know that mobile plays an essential role in the shopper's journey. Given last year's holiday numbers, we expect this trend to grow, where mobile will influence the entire path from research to purchase.
2) Gray Friday is the new Black Friday
Retailers have began their promotions earlier and consumers have shown a positive response. Instead of just having a one day Black Friday deal in November, retailers are stretching deals and promotions across the entire month.
3) Savvy shoppers know exactly what they want
Shoppers are smarter than ever as they would spend hours researching and comparing a product before any purchase is made.
4) Smartphones affect in-store sales
Shoppers are using their mobile device to assist them with in-store purchases, from finding product information to pricing comparisons.
5) Give them a bargain
Every shopper loves a good deal. If the pricing and shipping is right, they will be reaching for their wallets.