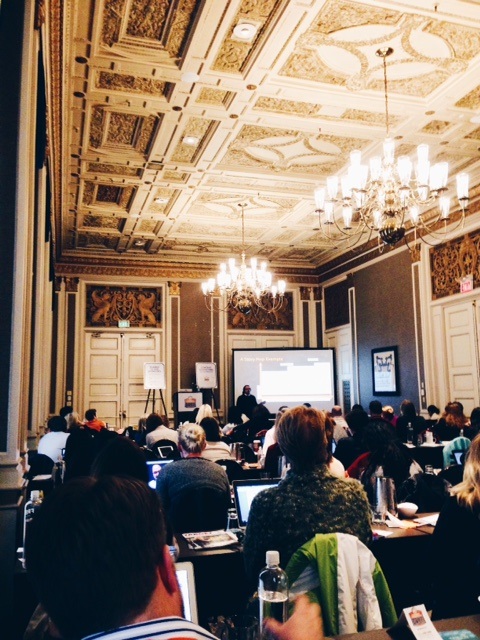 Content Marketing Institute (CMI) held their Content Marketing Master Class conference at the Sir Francis Drake Hotel in San Francisco on December 4. Prestige's resident Content Specialist, Echo Quan, was in attendance to hear speaker and Chief Strategy Officer Robert Rose talk about Content Marketing in the context of the evolution of marketing.
Prestige's Takeaways
1) Value over Information A great question that Rose presented was about the value we offer, and the value our customers are looking for. When we look at our homepage content, is what we see informational content or content of value to the customer? Since our site's homepage is often the target audience's first interaction with our company, or is their first online reference to us, that we should use it to show that we are of value of them. It is your first and possibly only chance to deliver an excellent experience. You could have featured webinars, videos or educational content. Rather, company homepages often center on information about who, what and why about ourselves rather than the customer, leaving it up to the visitor to draw their own connections. Focus your content to send a message: target upper management, present thought leadership, and remember: "Differentiate means telling a different story, not the same one incrementally better."
2) Your Real Competition Rose suggests that our real competition is not our direct competition. In fact, he claims that our target audience doesn't even see our direct competitors as our competition. If what we are competing for is our existing and future customer's attention, then Rose is arguing that the context of attention isn't just confined to marketing needs. Whatever people are giving their time and energy to is your competition. Even deeper, what people care about is your competition. Sure, when it comes down to choosing marketing services, of course your customer has to pick between you and other marketing firms. But contemporary consumers have different standards of loyalty and relationship. If you are only a product or service, that in itself is not a hold on your customers because what they care about is not a product or service. The underlying motivation is that they care about the success of their role or company. For example, if your ideal customer is management of medium or larger sized firms, they are looking to get ahead of the competition and CIOs are en route to a career as a CFO. To give specific value, you could create content like an e-book or webinar series such as "The New Voice of the CIO." This is content that makes you valuable to your target audience and sets you apart.