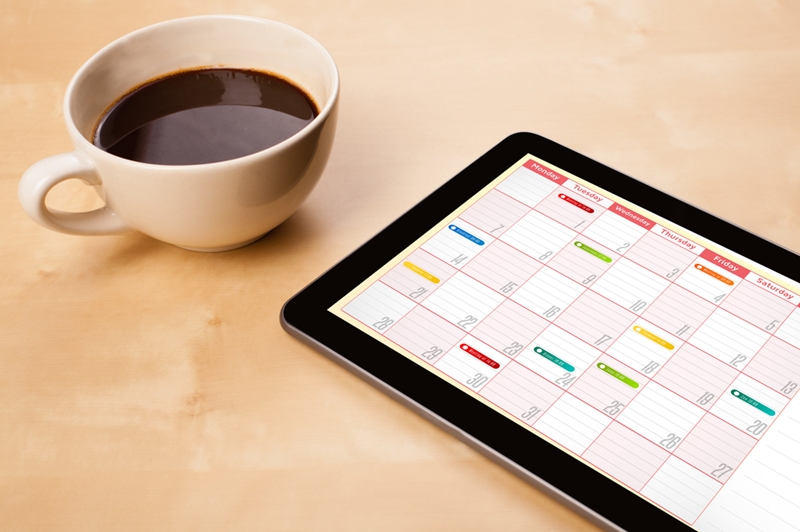 Whether weekly, monthly or quarterly, every marketer should have a content calendar to keep them on task. Doing so not only helps marketers organize content more efficiently, but it will help you formulate a strategy for connecting with your target audience, customers and other stakeholders. A calendar can include upcoming campaigns, product launches and social media pushes, in addition to important publishing dates. Most important, the calendar is a shareable resource that will help your team visualize how blogs and other content will be distributed throughout the year.
What you need
You content calendar will highlight industry events and other important dates, telling you what to schedule and when. Either a common software system or a free online tool like Google Calendar will be necessary to alert you when to line up content based on your marketing plan. As a rule, it should provide reminders of when to start and finish each piece of content with ample time to publish.
Everyone on your team will use it to plan together and share updates. In Google Calendar, you can invite new members by clicking Share this Calendar under the My Calendars setting. There are also permission settings to help ensure there aren't too many cooks in the kitchen. And you can all share those calendars with one another for a single-screen view of everything that's going on so you can coordinate more easily.
Where to start
Start by looking at your sales cycle and examining how your leads become customers. The Content Marketing Institute says marketers should ask these questions: Do they find you through pay-per-click ads on search pages? Television advertising? Word-of-mouth referrals from other clients? Your salespeople can give you a sense of your usual lead-to-conversion cycle looks like – for instance, whether it goes from online marketing to a face-to-face meeting to the actual proposal.
Content doesn't just refer to blog posts or pay-per-click advertising. Marketers should identify a range of content that the calendar will address. Think about the visuals your content includes, like photos, charts, infographics and videos. You probably conduct research before creating case studies and other content. If social media is central your program, your calendar will probably have a lot of social media updates, as well.
Remember, your calendar is intended for the entire team. Search Engine Watch recommends three steps for involving all of your team members:
Brainstorm: The process of creating the actual calendar should start with a brainstorming session for coming up with topics and ideas for each project. The Content Marketing Institute recommends identifying timelines with key demographics for each, including new leads (the people seeing your ads) and prospects (who contact you to seek out more information), as well as customers – both new and returning.
Delegate: Narrow down the ideas to ones that truly fit your content marketing concept. Assign a date and person responsible for delivering each topic.
Clarify: This is where you ensure that pictures, formatting and links are clear for all contributors. It's important to plan your publishing as far out as possible to produce a consistent flow of content and to build your brand in the relevant subject areas. Plan a year in advance to locate key industry events around which to plan your content, which will then be stored and managed using the calendar.
Start scheduling items and let the necessary players know about them. According to Business 2 Community, content calendar highlights may include a broad range of editorial tasks, as well. Some typical reminders to include are:
• Periodic conversation themes
• Target audiences
• Purchase cycles
• Draft due dates
• Primary keywords
• Blog categories, authors and editors
• Supporting images and media
• Syndication reminders
• Calls to action
At some point, marketers should also know when to step back from scheduling and turn their focus to posting high-quality content. If you get too consumed by your calendar, you will lose sight of why you needed it in the first place.