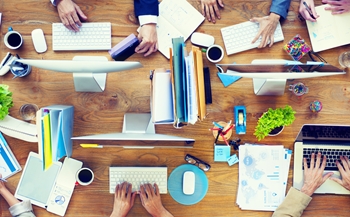 The end of the year is rapidly approaching, which means it's already time to look ahead to 2015. If certain tactics didn't deliver results in 2014, it may be time to consider a lead generation refresh. Here are some of the tactics that are expected to be the most important in the next year:
Content Marketing for Lead Generation
The marketing industry has been buzzing about content for the past few years, with good reason. Content is a great source of qualified B2B leads. However, this marketing channel has evolved over time, so it's important to keep up with new trends.
Content needs to be shareable and apply to buyers in different stages of the sales cycle, according to Business 2 Community. While in-depth content like case studies and white papers can be effective at certain times throughout the buyer's journey, many marketers are moving toward smaller, more digestible materials. B2B customers spend more time researching products on their own and may be 70 percent of the way through the sales cycle before reaching out to a sales representative, the article said.
Video Marketing for Lead Generation
Another major shift in lead generation is more visual sources of content. Video is a great way to convey complex, detailed information in a short amount of time. Viewers can consume and retain more data in a minute of watching a video than they could in reading an article for the same amount of time. In fact, video is quickly becoming one of the most valuable sources of B2B leads, The Content Standard stated.
This is a change from the past because video was primarily used to increase brand awareness, not generate leads. Many marketers are find compelling new ways to utilize video to create higher levels of engagement.
Mobile Marketing for Lead Generation
Mobile lead generation can help you create a higher number of impressions and reach buyers on the go. People bring their smartphones nearly everywhere, which means buyers may research from their mobile devices. This can be a quality source of leads, but marketers need to ensure they have the right systems in place to capture prospects, iMedia Connection said. Mobile-responsive landing pages can prevent individuals from abandoning lead-generation forms. A website has to be easy to use from a mobile device or buyers aren't likely to spend much time interacting with it.
In addition, it's important to target specific demographics with mobile.
Are these strategies part of your plan for B2B lead generation in 2015?